HOT SPRINGS,
LAKESIDE CRUISES,
GOURMET CUISINE.
This lakeside hot spring town has the most beautiful view of Mt. Haku, and is surrounded by amazing water scenery.
Gazing at the sacred Mt. Haku from upfront or the ever-changing lake surface will heal and calm your soul.
Overview
Its gentle warmth will spread
throughout your body.
As one of the hot springs in the Hokuriku region's Kaga Onsen Village, Katayamazu Hot Springs has won acclaim nationwide. This hot spring is located along the shores of Lake Shibayama, which is a wonderful place for gazing upon the sacred Mt. Haku. It is a sodium and calcium chloride hot spring. It is believed to have great heat insulation properties. Most people who exit its waters don't feel chilly afterwards, and it has helped those who are sensitive to the cold. While embracing the beauty of the lake's surface, which changes seven shades of color in a single day, enjoy this pleasant hot spring!
History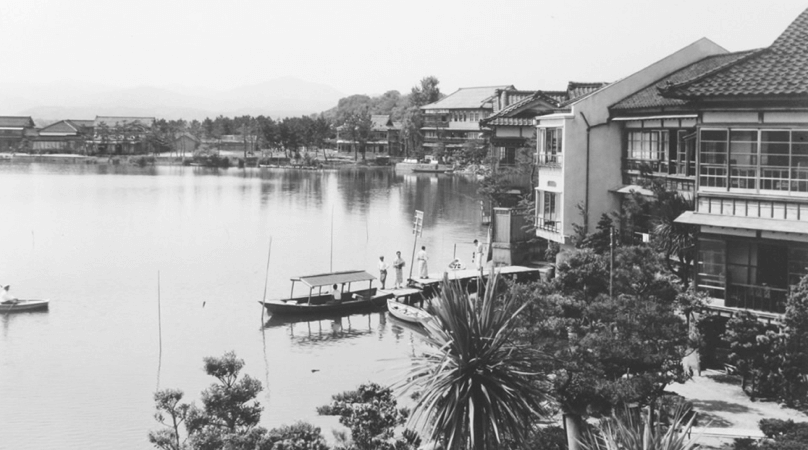 Katayamazu - the lakeshore city.
It follows the passage of time
with its hot springs.
Discovery of the Hot Spring & Rough Beginnings

Edo Period

Katayamazu Hot Springs' beginnings can be traced back to the Edo period. In 1653, Maeda Toshiaki – the second feudal lord of the Daishoji Domain – visited Lake Shibayama (one of Kaga's three lakes) in order to practice falconry. He noticed that many waterfowl were flocking around the water's surface, and eventually discovered this hot spring at the bottom of the lake. Wanting to make use of this hot spring, he used the Maeda clan's resources to try and excavate the area countless times, but failed. Afterwards, many others tried doing the same thing, but they, too, were unsuccessful.

The Birth of an Enormous Hot
Spring Village on Lake Shibayama

Meiji ~ Showa Periods

1876 brought about a large-scale (around 1 hectare) land reclamation project at Lake Shibayama that made use of 30,000 pine trees. This eventually resulted in the successful creation of an artificial island, which was connected to the lake's shore through a bridge. This was when people could finally begin using the hot spring. In 1877, Katayamazu's first hot spring inn was established. From then on, regardless of the passage of time, many people have continued to visit to bathe in the hot spring. Even today, it is continuously developing and expanding along with the modernization of Japanese society.

Katayamazu Hot Springs, Reborn

Heisei Period ~

Currently, Katayamazu Hot Springs – which has displayed the most success, even when compared to Hokuriku's three prefectures – is preparing to advance into the future by trying to be reborn into a fresh, new hot spring town that can still retain its good, old traditions. In addition to its traditional side – which includes things like hot springs, pleasure cruises, and fireworks above the lake – they plan to introduce new elements like workshops where you can make tofu using hot spring water or paint your own unique handkerchiefs, as well as two town baths (Lagoon Hot Springs and Forest Hot Springs) that actually opened in April of 2012. To ensure that everyone can enjoy their travels to the fullest, they are constantly improving as a hot spring village.